[center]
[intro]
[intro-emphasis]HOW THE RADIO SERIALS, CHICKENMAN AND TOOTHFAIRY WERE BORN[/intro-emphasis]
At the suggestion of Ken Draper, WCFL Radio Program Director in Chicago in the late 60's, Dick Orkin conceived and wrote the Chickenman and Toothfairy series while he was Public Affairs/Production Director at the "Voice of Labor" radio station. [/intro]
[table name="chickenman"]
[row]
[item]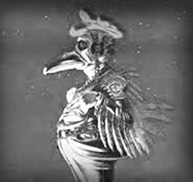 [/item]
[item class="itunes"]

[/item]
[/row]
[/table]
[spacer/]
[intro-emphasis]CHICKENMAN[/intro-emphasis]
In addition to writing the series, Dick played the Fantastic Fowl and several other characters, including the Police Commissioner of Midland City, as well as the Mayor of the town, who was always in the wrong place at the wrong time.
The late Jim Runyon was the famous "WELLLLL…." announcer of the series. He improvised the famous word-play closes. In several episodes, Jim also played Benton's boyhood enemy, Rodney Farver. Jane Roberts (who later became Mrs Jim Runyon) played the acerbic Ms Helfinger, secretary to the Police Commissioner of Midland City; as well as the Masked Mother, sometimes known as the Maternal Maurader. Jane also played Benton's excitable girlfriend, Sayde Leckner—as well as her mother, Mrs Leckner. Jane also played several other minor roles in the series.
The final 65 episodes and special EPA weekend shows were produced in the early seventies. Contrary to claims made by others, the original 195 episodes produced in the 60's were authored by Dick with additional assistance from his partner B. Ziggy Stone and Dick's son, Haris Orkin.
The Chickenman series gave detailed attention to sound effects, from door opens and closes to the longest explosion in the history of radio. The man responsible for these and a myriad of other production effects was J. Michael King, who today owns and operates one of the most successful recording studios in Chicago and the nation.
Chickenman has aired in more than 3,000 cities in the U.S., Canada, Australia, and wordwide via Armed Forces Radio making it the longest running radio serial of all time. Chickenman (52 weeks of episodes) continues in broadcast syndication today and is most popularly heard on oldies and contemporary formats. Chickenman can also be heard on XM Satelite Radio.
[/center]